CREATIVE WAYS TO USE LOCA
RECIPES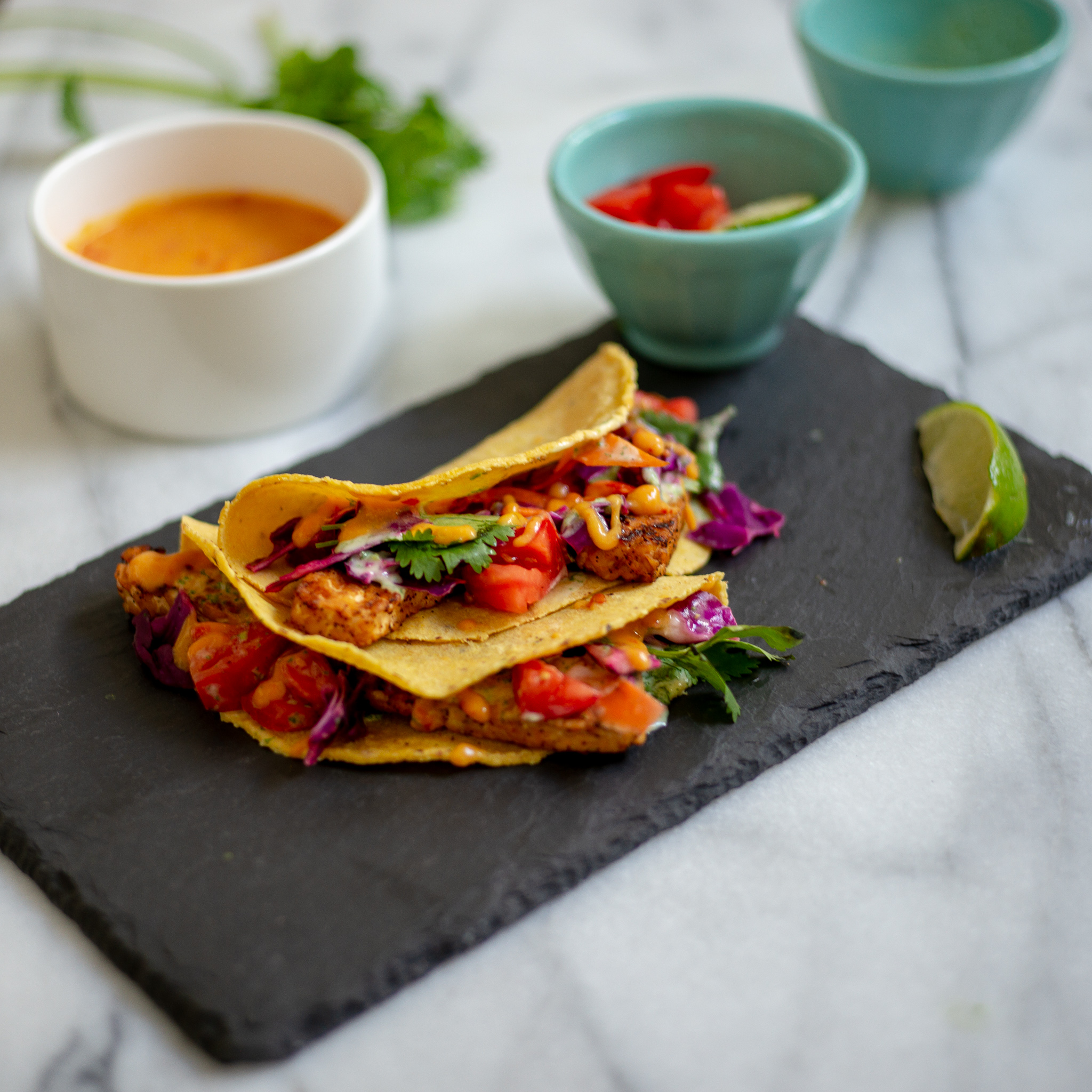 Makes 8 tacos | Time: 65 minutes (spent mostly waiting around, sipping a margarita or drink of choice)
INGREDIENTS
12-16 soft white corn tortillas
LOCA Cheese Dip - 2 OZ.
Slaw:
3 cups shredded purple cabbage
1 small carrot, shredded
3 tablespoons lime juice
1 teaspoon salt + pepper (to taste)
Lime crema sauce:
3/4 cup plain, nondairy yogurt
3 tablespoons lime juice
1 tablespoon avocado or olive oil
1/3 cup fresh cilantro
1/4 teaspoon salt
Chile-beer marinade:
3/4 pilsner style beer
3 cloves garlic, minced
3 tablespoons soy sauce
2 tablespoons olive oil
2 tablespoons lime juice
2 1/2 teaspoons chili powder
1/3 teaspoon ground cumin
1 8 ounce package tempeh
The following recipe is taken and altered from the Veganomicon cookbook - one of my favorite plant-based cookbooks! (Treat yourself - it's totally worth it).
Prep the slaw:
Mix all slaw ingredients in a large glass bowl or plastic container. Cover the top of the container loosely with wrap, press down the slaw (use something heavy to hold it down). Marinate the slaw for at least an hour. When ready to use, squeeze to release excess juice before adding to tacos.
Lime crema:
Blend all the crema ingredients together in a blender or food processor until creamy. Add salt or lime juice to taste. Pour into an airtight container and chill until ready to use.
Tempeh:
Whisk the marinade ingredients together in a glass pie plate or casserole dish. Slice the tempeh into strips about 1/4 inch thick. Transfer to the dish and flip each piece a few times to coat in the marinade. Set aside for 15 minutes, flipping them every few minutes to cover surface.
Preheat a greased grill pan or cast-iron skillet over medium-high heat. Working in two or three batches, grill each piece of the tempeh for 2-3 minutes or until the edges are crisp. You can continue to brush with more marinade as you cook. Flip pieces halfway through the cooking. Transfer to plate.
Assembly:
Heat up the tortillas on the skillet, as desired. Heat up LOCA dip in microwave or skillet. Now you are ready to assemble! Pile on tempeh, slaw, crema, and LOCA dip. Add avocado if you're feeling extra hungry. Fold up, eat, repeat!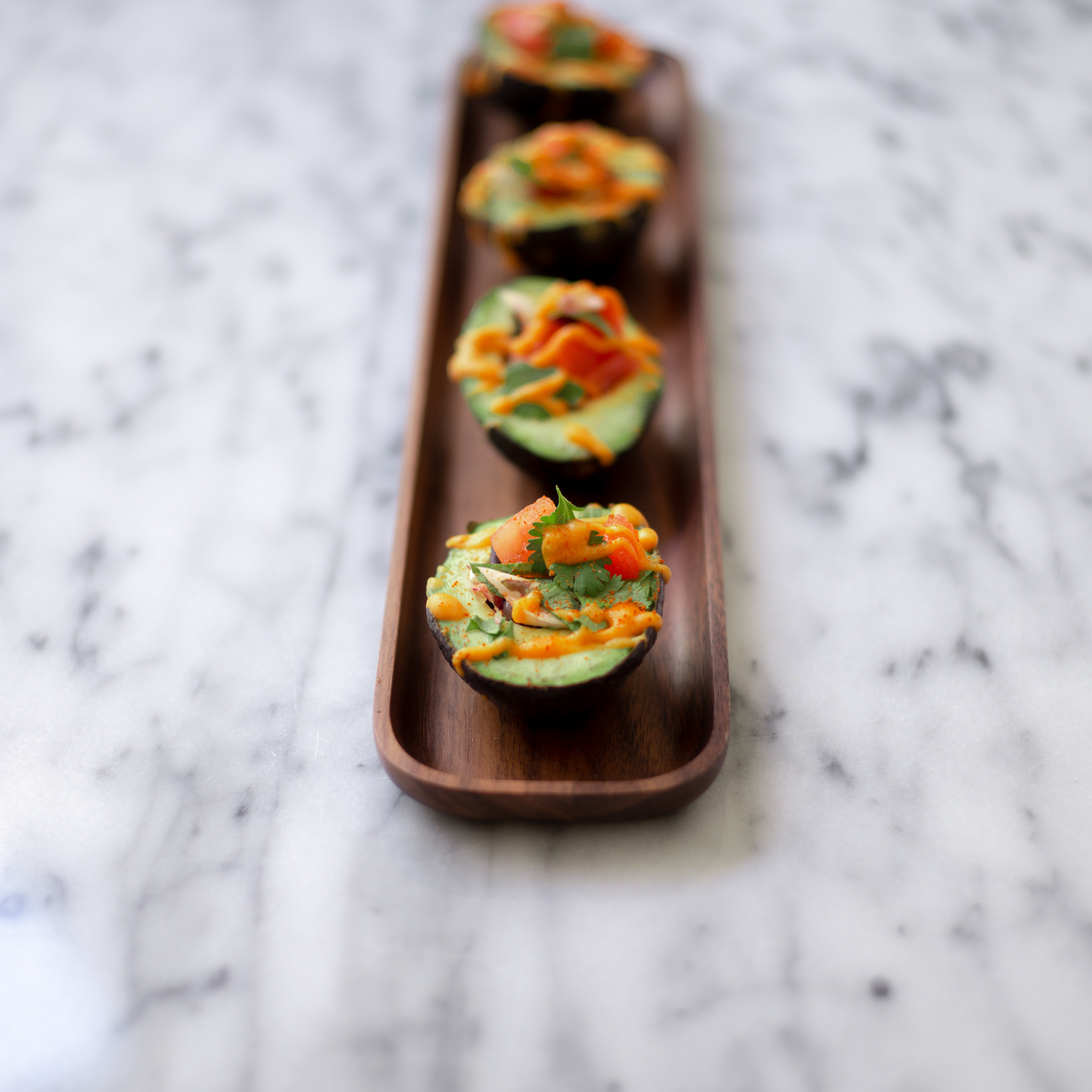 Prep time: 10 minutes or less
INGREDIENTS
2-4 Avocados
Loca Cheese Dip - 1-2 OZ.
Tomato
Cilantro
Onion
Cabbage
Cayenne Pepper
Slice and pit the avocados. Chop cabbage and tomato. Fill with cabbage and tomato. Drizzle cheesy dip on top. Add cilantro and cayenne pepper (or spice of choice) to taste. Done!
Pro tip: Avocados starting to show their age? Brush with lemon juice and store in an airtight container in refrigerator. The citric acid from the lemon juice will prevent the avocados from browning.
INGREDIENTS
2 tablespoons olive oil
1 medium WHITE onion, minced
½ teaspoon salt
4 cloves garlic, minced
2 tablespoons chili powder
2 teaspoons ground cumin
1 ½ teaspoons smoked paprika
1 teaspoon dried oregano
1 large can (28 ounces) or 2 small cans (15 ounces each) diced tomatoes**, with their juices
1 cans (15 ounces each) black beans, rinsed and drained, optional
2 can (15 ounces) pinto beans, rinsed and drained
2 cups vegetable broth
1 bay leaf
1 bag alternative beefy crumble (Try Beyond or TJ's!)
2 tablespoons chopped fresh cilantro, plus more for garnishing
1 to 2 teaspoons sherry vinegar or red wine vinegar or lime juice, to taste
Garnishes: chopped cilantro, sliced avocado, tortilla chips, LOCA DIP, diced jalapeño
In a large pot, warm 1TB olive oil over medium heat. Add the finely chopped onion and 1/4 teaspoon salt. Cook until tender, about 7 minutes. Add the garlic, chili powder, cumin, smoked paprika, and oregano. Cook and stir constantly for about 1 minute. Add the diced tomatoes (including the juices), drained pinto beans, drained black beans (optional), vegetable broth and bay leaf. Cook and maintain a simmer for 30 minutes.
In a separate pan, warm 1TB olive oil over medium heat. Cook the 'beefy' crumble according to the packaging instructions. We love Beyond Meat but any alternative protein crumble will work just as well.
Combine protein crumble with chili base. Garnish with chipped cilantro, diced jalapeño and a dollop of LOCA dip.